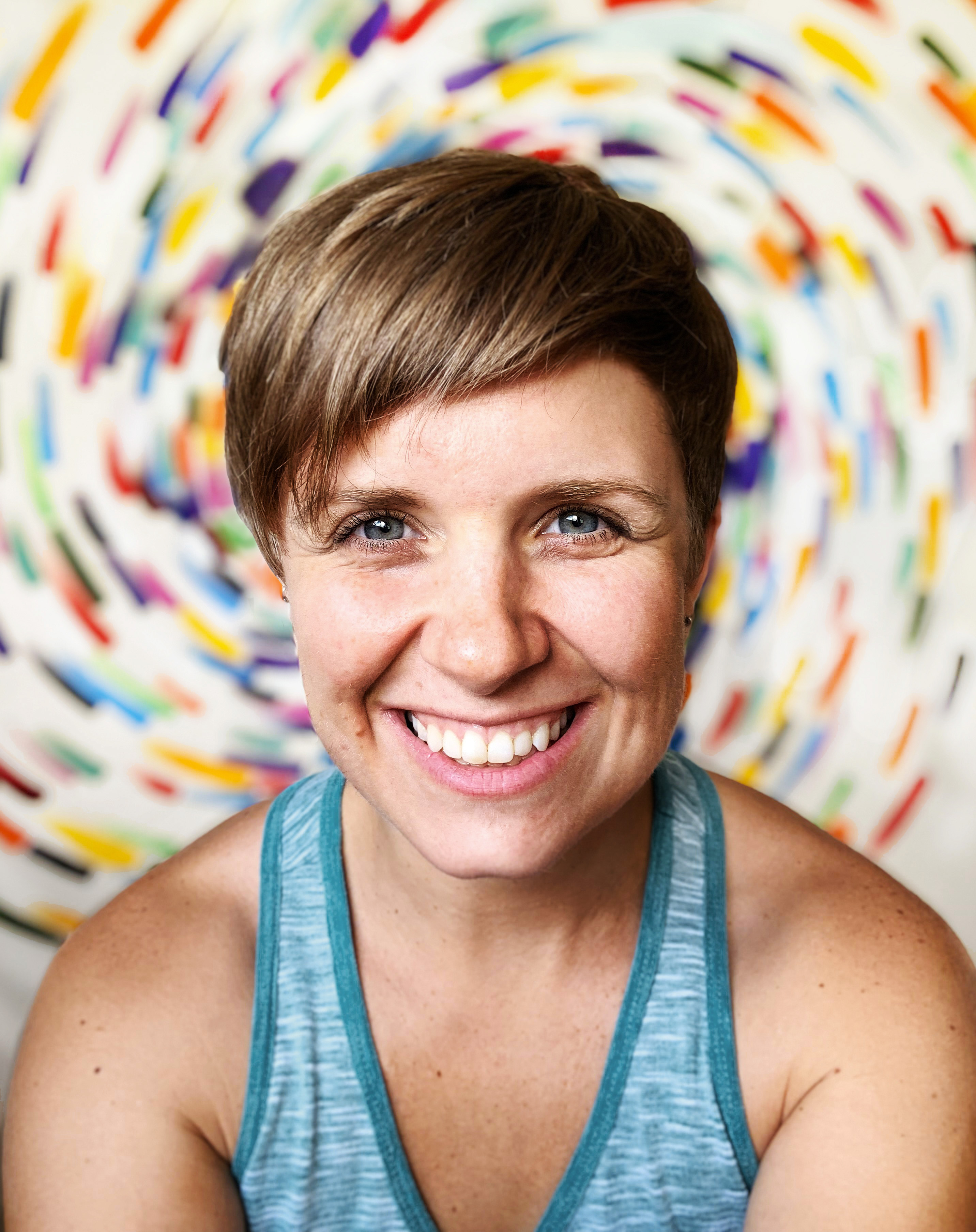 Dawn Szombathy
UX Designer
Chemistry
Designing a women's dating app from scratch.
The Problem
For my Springboard UX Career Track capstone project, I was asked to pick a space where pain-points were evident in people's experience and work to solve them. I chose online dating as it pertains to women who date women, because I am very familiar with this territory and believed there was room for improvement.
Me, My Mentor and the UX Design Process
This is my first deep dive into user experience design and as I learned the various aspects of the human-centered design process, I applied them to this conundrum. My awesome Springboard mentor, Ana Santos, gave me guidance along the way.
Time Frame
3.5 months
15-20 hours a week
The Persona
The main categories of people I identified in the online dating scene are those that are casual & those that are seriously looking for a long-term partner. I chose to focus on the serious persona and named her Kristen.
How might I improve the dating experience for gay women and help them find a long-term partner?
Ideate & Decide on Features for MVP
Break the Ice
From research I learned that the modern women was not raised to "hit" on other women. They will often get so nervous when the opportunity arises that this occurrence is termed, "sheep syndrome." Providing ice breakers will help get the conversation going.
Let's Talk
I had read in my research that 80% of people on a first date could tell whether they were interested in the first 15 minutes. I chose to make a live, timed 15 minute voice-to-voice conversation (aka a phone call) with ice breaker prompts the way to interact with others.
Emphasize Personality
Lastly, showcasing personality beyond looks would be important to Kristen in her search for the one.
Narrow the Options
A filtering feature is indispensable for Kristen to weed out non-potentials so she can use her time to consider real options.
Now that I had a handle on my most important features, I began visualizing the concepts. I started by mapping out of all of the content to wrap my head around navigation.
Guerrilla Testing with Sketches
Besides a number of spots that needed transitional refinement, the feedback was overwhelmingly clear: going directly into a voice to voice conversation was too much for the women I tested. Despite not knowing each other's names, the ability to end the call early and no live video feed, it gave them anxiety.
Iterate
I decided to try a voice message feature instead of a live call, because I felt that it was easier to answer ice breakers with voice rather than text and much more could be garnished from hearing someone's voice than text alone. With this in mind, I began building wireframes and organized them into wireflows.
It's a date right?
With some solid structure created, I now considered the look and feel. I watched an episode of a dating show where a woman went on five first dates with five different woman for inspiration.
It looked romantic and sexy unlike the online services Kristen currently used. Some of the most popular services use a business-blue as their main color. I realized that the UI design could also support Kristen in facilitating a safe space that encourages genuine connection and intimacy.
The app should feel
like a date rather than a
job interview.
What's in a name?
Since I began this project, I wondered what data ultimately reveals the best potential partners. Eventually, I concluded that there is so much information that simply cannot be expressed via a digital interface. Besides, there is no data that confirms that algorithms actually work. Romantic connection is a mystery and you can only tell if it is there when you meet in person.
So, I decided to call this app, Chemistry, and began painting in my wireframes and building my hi-fidelity prototype.

The feedback was unanimous.
Voice messaging was still too much for them. They loved the ice breaker feature, but wondered why they could not text. They were confused. Though these women may all be seriously looking for a partner, their personalities determine how they want to interact with a brand new romantic interest. Hence: I am not my user. It was at this point that I decided I needed to give women more ways to connect and interact with each other rather than forcing them to use one means that I believed to be best.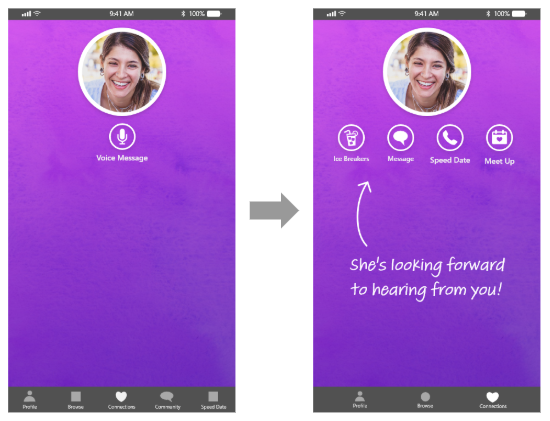 Iterate
I focused on tools for 1-on-1 communication and re-tested. I also introduced new testers to the features that had not yet been fleshed out and asked for their opinion.
But —  would you use it?
Results
There was much less anxiety from the testers. They now had options and wanted to play with the app further. The "Speed Date" feature was still the least popular — a live, timed call where the participants ask each other ice breakers. I wonder if women would adopt it once they became more familiar with the app and felt more safe with this environment and the women using it.
If I Continued
For the purpose of learning the ux design process, this project is now considered complete. *Phew*
If I were to continue, I would work to evolve the "Speed Date" live call feature — I haven't quite got it right yet, but I still think it has potential. I would also introduce a live events feature with a list of curated events to promote singles events the users could create… so Kristen can have a chance for an organic meeting too. We cannot underestimate meeting someone at, "The right place at the right time" whether it is online or offline.
In a Nutshell
We are humans dealing with an inorganic means to find connection.

Meeting online has its own progression versus traditional dating strategies.
I wanted to reinvent the wheel, but tweaking ideas already out there worked better.
Very new, bold features are more easily adopted through incremental change.
There is an opportunity to create an inclusive dating culture that could encourage and facilitate more intimate interactions (like a phone call).
The Longer Version
I wanted to discover a unique solution, but as the process went on and my users schooled me, my thinking and approach shifted. I went from trying to simulate an organic meeting to accepting that online dating has its own natural progression. It was often a matter of pulling the best features I found together and making tweaks rather than re-inventing the wheel.
Still, I hold hope that one day, women might feel more comfortable having a phone conversation with one another. It would save a lot of time and energy and they might just be delighted by their experience.
My testers were under the assumption that they would be dealing with the same sort of culture they had experienced on other dating apps. A lot of groundwork would be necessary in order to create an online dating culture that is warm, accepting and inclusive rather than superficial, flaky and chronically ghosting.
Somehow, when interacting through an interface, it is easy to forget that we are all just vulnerable humans searching for the same thing: Chemistry.