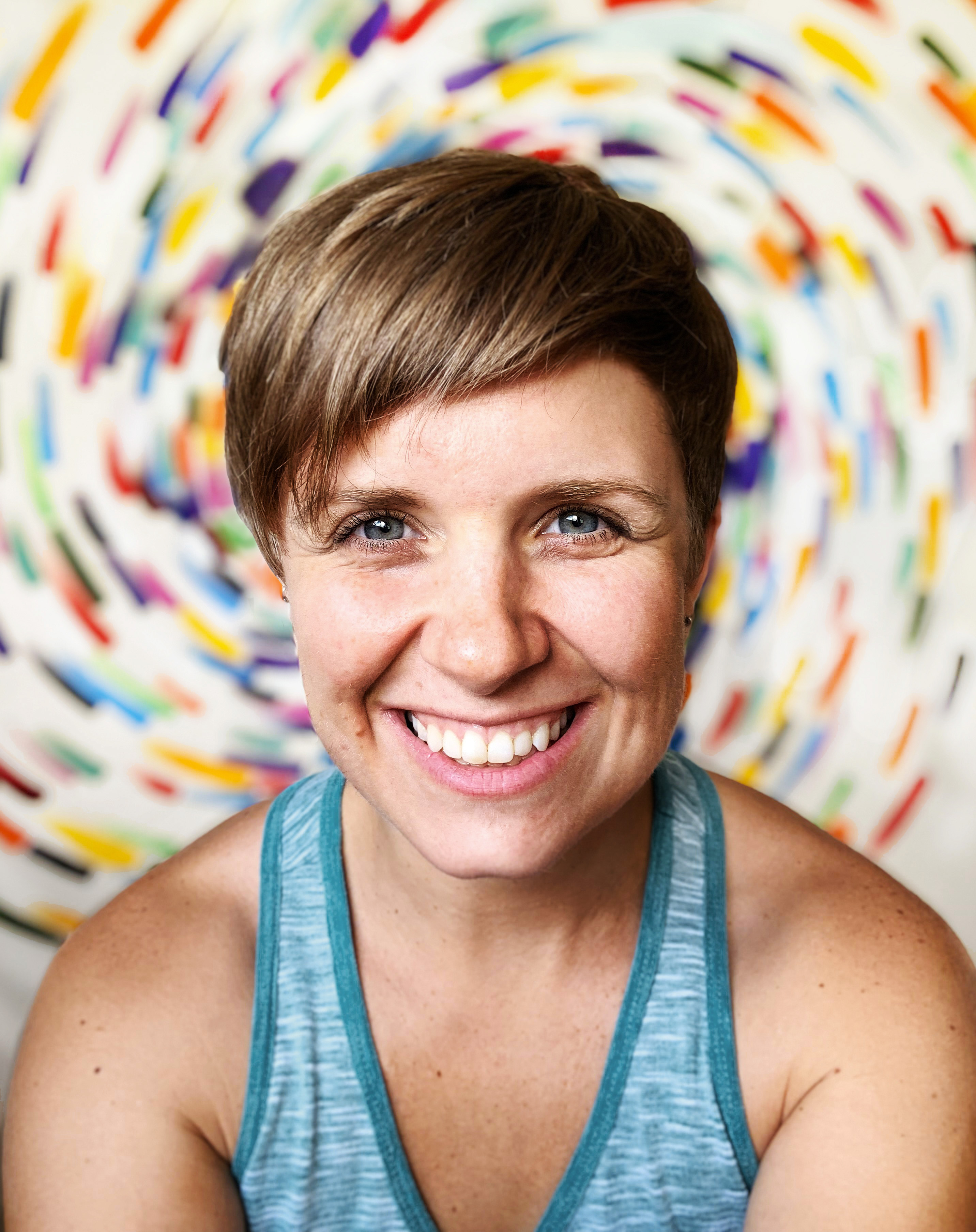 Dawn Szombathy
UX Designer
Solo Design Sprint
Help novice chefs cook new recipes.
Introduction
To learn and practice a 5-day design sprint, I chose a hypothetical design brief from bitesizeux.com facilitated by my UX Career Track course with Springboard.com. Typically, a design sprint is done with a team, but I did my best to do this solo with the excellent support of my Springboard mentor, Ana Santos.


Synopsis
Savr is doing a great job of providing quality recipes to people that cook at home. However, they have received a lot of negative feedback in regards to the actual directions when actively making a recipe.
I will conduct a modified design sprint to test a solution for helping users as they cook new recipes. The solution will be in the form of a feature set for their native mobile app.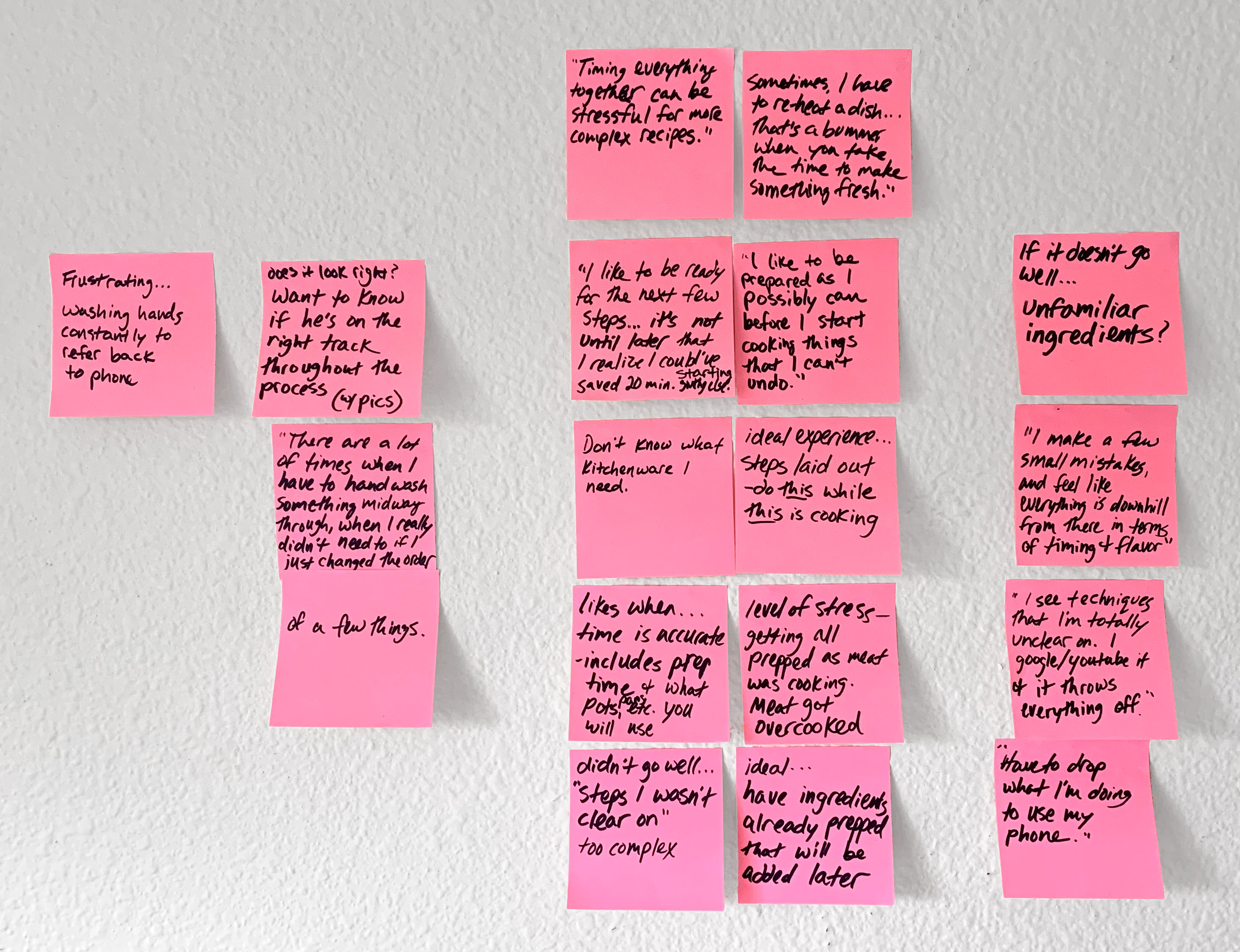 User Feedback
The main feedback that I gathered from the brief and research presented is that people want to feel prepared. Therefore, the solution needs to act like a guide. It needs to support people who are trying a recipe for the first time and may not know every ingredient or technique, understand timing or how things should look as they proceed.

Persona
Nick, 29
Los Angeles, CA
"If a dish doesn't come out as expected, he doesn't really know where he went wrong, and feels disappointed in the meal, and that he didn't really learn anything for next time."
I asked:
How might I better guide novice cooks as they try
new recipes?
Based on the interviews and the persona provided, I broke the HMW question into several variables to investigate and drew up a solution map.
Variables
Timing
Order of Steps, Preparation
How users learn and implement new cooking techniques
And more related to actually preparing the meal
Day 2 - Lightning Demos
& Sketching
I checked out some competitors as well as some other popular means of online learning for inspiration.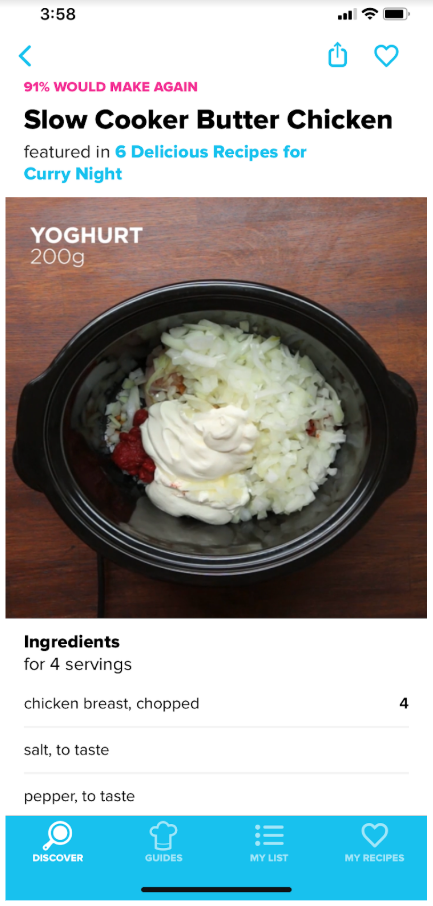 Notably
Tasty recipe app has great short videos for recipes. The clips are sped up showing only what is necessary and text directions below. It also has a fantastic step by step mode.

Crazy 8's
The most important focus for this project is the screen(s) with the recipe directions that the user will refer to as they are cooking.
Chosen Solution
The main screen combines videos with text organized into logical steps to guide users in executing a recipe. In a design sprint, it is ok to take inspiration from elsewhere and so I very much used the Tasty app as my muse.
The solution I chose to storyboard has a few ideas combined. The main instruction is in short videos with text supporting. Further tweaks:
Provide list of ingredients, list of kitchenware, prep directions, links to supporting resources that also are viewed in app and go step by step one screen and video at a time.
Give tips on what users can do while they wait for certain tasks to happen.
Provide a voice command feature that can repeat steps back to the user when their hands are deep in food preparation.

Luckily, in the brief there was an image of a screen that could come before the main screen I was designing. I used it as inspiration to flesh out my prototype in Adobe XD. For the sake of speed, I placed images where I wanted videos to be. I was not sure if this would be enough to convey the idea of video, but hoped explaining to testers would bridge the gap. I contacted friends that use their phones to cook and executed user testing.
Check out the demo (hint: pick the first fish taco recipe ;) https://invis.io/AVSRY98QPJ6
I think it would be very helpful to provide links to supporting information to ensure that the recipe be completed successfully. Like, 'How to Cook w/o a Deep Fryer,' in the screen screen shown below.

Day 5 - Testing & Results
I interviewed 5 people that refer to recipes on their phone while they cook. Some had more cooking experience than others. Here is what I learned:
For the next round of testing, make sure to test novice cooks
Better understand people's cooking process to aid in user flow
My usability testers made a lot of assumptions about the videos. It would have been better to test along with actual video clips vs. images representing videos.
Both novice and experienced cooks thought it would be helpful to re-list the amounts of each ingredient needed in each step. This detail was the best discovery I made from this round of testing. It is this kind of detail that can make Savr stand apart.
Foreseeing all of the information that a user will need in the order they will need it is the fine art of intuitive content creation. Perhaps recipe writers can instruct people to measure everything and prep everything as a step in the beginning.

I totally loved stepping out of my think cave after only four days of work to be humbled by user feedback. With seemingly limitless possibilities, I don't know that there's a better way to steer the design ship at such a rapid pace.
I can't wait to do another design sprint.